CONTENT WARNING: this is a non-exhaustive gallery of Pro Kyle Rittenhouse memes made in boog spaces.  Our purpose is to highlight the sympathies various boogs have for fascist apologia.  Racism, body horror, gore, and an utter contempt for human life is on display here.
Kyle Rittenhouse is commonly viewed as a "Blue Lives Matter bootlicker" by boogs, however many boogs – such as Zakk Dougherty – have gone to great lengths to defend Kyle.  Zakk's compatriot Tim Teagan has admitted to having the same goal during his involvement in the Detroit 2020 protests: defending property at the expense of life.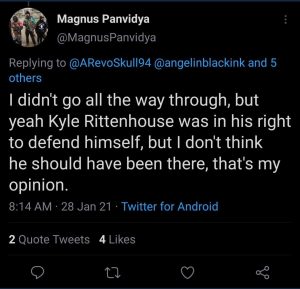 Example of Zakk defending Kyle.
In fact, that evening Kyle was spotted working in concert with boogaloo bois albeit not being a boogaloo boi himself.  The images below come from group chats that Zakk's affinity group (ie Unity Coalition) are active in.  In one group chat, we counted close to twenty associates of Zakk.
How are antifa or BLM or leftists meant to "unify" with people that celebrate their deaths or injury?  Or see fit to make light of death or injury?
Note: Boogs often identify by using "Liberty movement," "agorist," "mutualist," "libertarian," and  "voluntaryist," as adjectives to replace or augment their self-identity of boog.
We have cut down this gallery by a factor of ten.  There heaps of these disgusting memes, many way worse that what is being show here.
Again: Content Warning!
.
.
.
.
.
.
.
.
.
.
.
.
.
.
.
.
.
.
.
.
.
.
.
.