On the eve of Rebecca Anne Tremble (aka Becca, Becky, Kitty) collaborating with fascists (again!) in support of the far right opp "Freedom Convoys" we must draft an alert.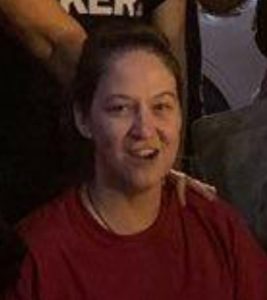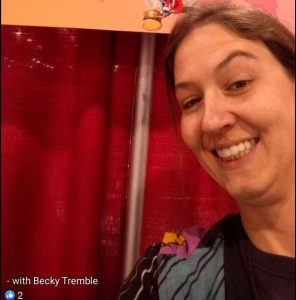 Becca has been an "activist" in Lansing for many years, however recently she has fallen into a role of claiming "AFA" (antifascist action: antifa) status in order to operate as a tool to launder the image of boogaloo bois into being an acceptable ally to leftist organizers.
This is obscene and unsafe to our communities.   Her first attempt at this strategy was to invite boogaloo bois into a protest on the state murder of Anthony Hulan.  The other organizers very quickly surmised who these white bois obsessed with guns were and immediately pulled the breaks on this attempt.  Please see this write up by Lansing's chapter of Solidarity and Defense for a more detailed account.
Since this event she has effectively blackballed herself from many spheres of the left.  The only groups that have been consistently willing to work with her are boogaloo groups and their affiliates, as detailed in this write up by It's Going Down surrounding the "End the Damn Wars" farce.
There is a running theme in Becca's work that seeks to connect truly unrepentant racists to the organizing spaces of the left.  She cites other efforts to ingratiate racists into liberatory circles.  The problem is that there is significant critiques to the efforts she means to cite in anti-racist circles.
And, now with her involvement with the Freedom Convoys she is working with Three Per-centers, Proud Boys, Qanon cultists, Siege Nazis, and White Lives Matter activists.  She traded Black Lives Matter for White Lives Matter.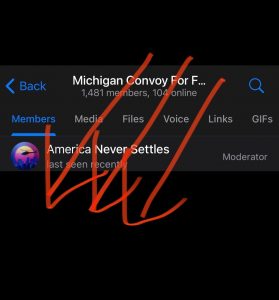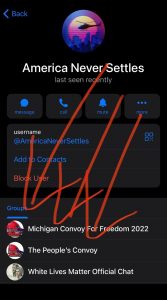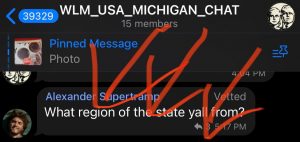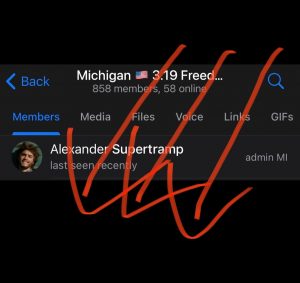 This explains her short lived efforts to focus the Michigan boogs into a very public "anti Patriot Front" cause.  However, anti-racists in Michigan reckoned this for what it was: a flimsy PR meant to bone up on the anti-racist bonafides.  The Patriot Front leaks published by UR Ninja even reveal that Patriot Front was very thankful for the signal boost that the boog PR campaign afforded them.  The boogs did not think to edit out the web address for Patriot Front – thereby signal boosting racist hate nonetheless.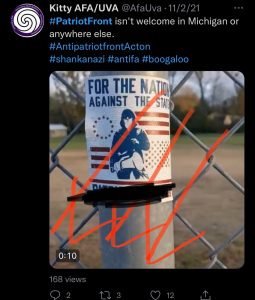 This is a non-exhaustive listing of the dangerous actors that Becca surrounds herself with (one is hell bent on being the next Kyle Rittenhouse) but we wanted to list these connections as we lead up to her plans for Sunday February 13th 2022.
Becca will be at the Michigan State Capitol collecting material goods in support of the "trucker" Freedom Convoy before 1PM.  Why a convoy of people that can afford to not work for weeks on end that have also raised millions of dollars on various platforms would need supplies from cities that have sizable houseless populations we don't know.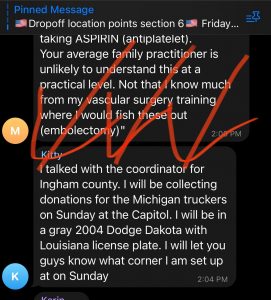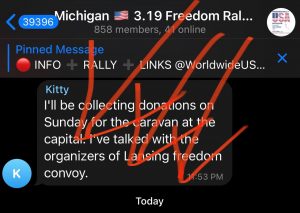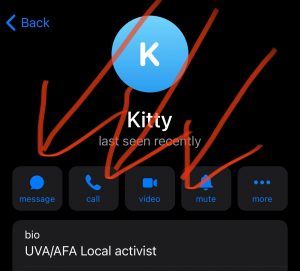 The fascist telegram channels that Becca is offering material support to are absolutely terrified of "antifas." The presents a unique contradiction in terms.  Viewing her telegram profile you will see her list "UVA" or United Voluntary Action, her boog affinity group and then you will see her list "AFA" or Anti Fascist Action aka antifa.  It is surprising that no one in these telegram channels question this.  This could be for three reasons 1 – they do not check into anything there, 2 – they might be mistaking AFA to mean Asatru Folk Assembly (a fascist pagan outfit), or 3 – they also know Becca's claims of anti-fascism is bullshit.
It is likely the first reason.  How would the various strains of fascist feel about giving material goods to someone that pretends publicly to be anti-fascist?  It would be very awkward.
Leftists should give Becca a wide berth.  She associates with people that would wish you harm.  She is sloppy in her "organizing" and she encourages erratic behavior by unsafe individuals. Marginalized peoples are not safe around people that help "White Lives Matter" organizers not matter now many times they pretend to be antifa.
So Becca will be on the east side of the Michigan State Capitol building a little bit before 1PM in a gray 2004 Dodge Dakota that has LA license plates.  We do not advise wasting your time by approaching her and her booger buddies, but if someone manages to snap some photos our tip line is always open.
UPDATE; or she might instead be in Detroit down by the Ambassador Bridge! Boogs are directing people to show up armed to the United States border with Canada.
Our recommendation is to not get involved.  If boogs want to act foolish and catch needless charges, don't get in their way.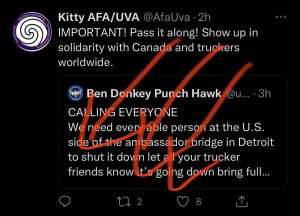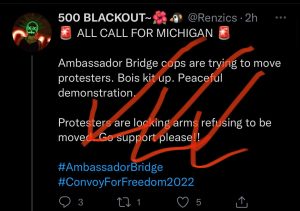 ¡No Pasarán!
– The Lone Gunmen AFA